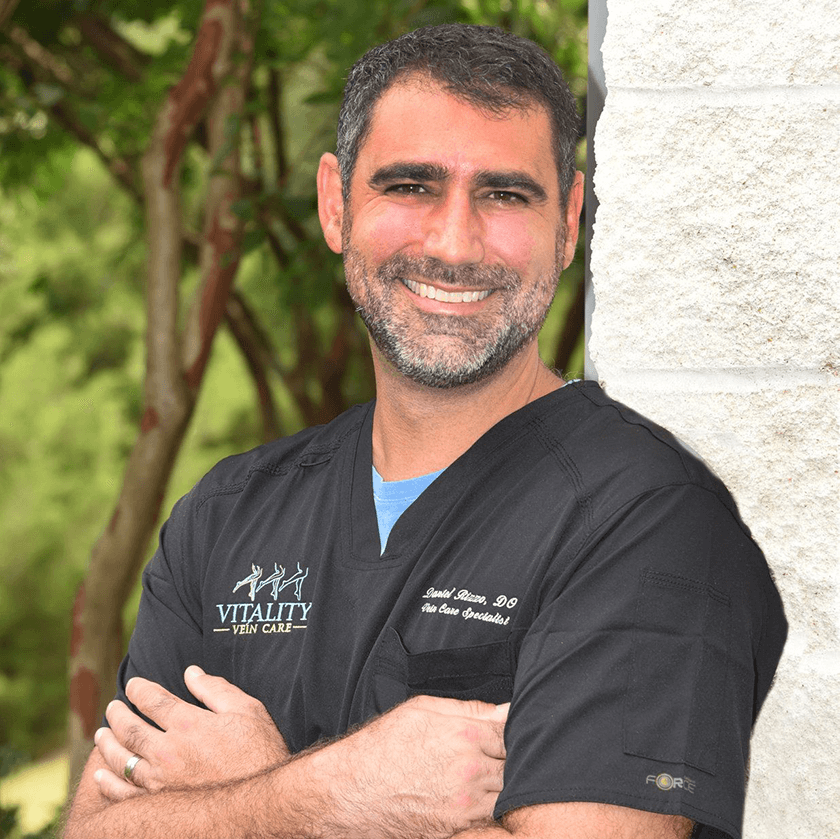 Dr. Daniel Rizzo is a board-certified general surgeon and an integral part of the Vitality Vein Care team. After earning his Bachelor of Science degree from the University of California at San Diego in general biology, Dr. Rizzo went on to become a doctor of osteopathic medicine from Midwestern University – Arizona College of Osteopathic Medicine. He rounded out his collegiate education at Ohio University – Mercy St. Vincent's Medical Center where he completed his general surgery residency. Upon completing his education, Dr. Rizzo served in the United States Navy where he earned various medals and worked as an attending physician, oversaw the surgical residency didactic program, and deployed multiple times. At the end of his military career in 2018, Dr. Rizzo settled down in Dallas, TX where he remains with his wife and children.
Dr. Rizzo is proud to be a member of the following societies:
American Osteopathic Association (member)
American College of Osteopathic Surgeons (member)
Portsmouth Surgical Society (lifetime member)
Toledo Surgical Society (resident member, 2009 – 2014)
Specialties and Expertise
Dr. Rizzo is passionate about surgery and has a fond interest in outcome measures in emergency general surgery and robotic surgery.
Reviews
"I had my 1st procedure done & of course I was nervous, not knowing what to expect; but Dr. Rizzo & Nicole handled that & the procedure adeptly---explaining everything in depth as it was happening/and why! The medical assistant that prepped me for the procedure (sorry I don't remember her name) was AMAZING as well---initiating the calming of my fears & explaining everything so well! The procedure itself exceeded my expectations. I was in & out lickety-split. This is a great team of experts right here---from the front office to all the doctors/medical staff at this office. So glad my doctor referred me here! I highly recommend."
P.R.
Google
"Came in today for first appointment. Very positive environment, and efficient. Several tests were done and diagnosis and recommendations given. Dr Rizzo was excellent to work with and explained everything in detail without rush. All staff were kind and helpful, positive energy. Looking forward to treatment and solution to leg and foot swelling and foot numbness."
R.V.
Google
"Several months ago, I had a weird, random pain in my right ankle. After a couple of weeks, I went to urgent care for an x-ray. When I got there the doctor said "I'm pretty sure this is thrombophlebitis, a blood clot in the ankle. You need an ultrasound." Turned out, she was right. My GP referred me to a vein specialist, Vitality Vein Care. Not sure what to expect, I met with Dr Hart in Prosper. I swiftly learned that I had significant venous insufficiency, which means the valves in my veins were not working. This causes swelling, pain, and can lead to some terrible complications. My veins were basically pooling blood at the bottom of my feet/legs. This diagnosis was followed by months of treatment, filled with complications. I had blood clots, a failed procedure because of said blood clots, and 8 procedures to close the diseased veins in my legs. Through all of this, my family and the team at Vitality Vein Care took SUCH good care of me. All questions were answered, much laughter ensued, and I felt HEARD and cared for through it all. Last week, I was cleared! I'm cured. I just need some scans to be sure everything is as it should be. I feel FANTASTIC. No more tired legs, no more restless sleep. My legs have shrunk! My feet have shrunk by an entire shoe size. The results I've had with the wonderful doctors - Rizzo, Hart, and Roberts - are unbelievable. The team in their office, all of them, are warm, friendly, and incredibly helpful. I cannot express how much I appreciate the support I've received from my doctors and my wonderful friends and family over these last trying months. Not only did they treat my legs, they also kept me laughing. If you need vein care, please go see Vitality. You will NOT regret it."
C.L.
Google
"I have been going to Vitality Vein Care for about 2 months now and have had a great experience every time I'm there. I'm Dr. Rizzo's patient and he and Nicole are awesome. Yesterday, my appointment was with Stephanie and Heather and they both did wonderful, they're a great team. The entire staff is great and very courteous and knowledgeable. If you are looking for the best Vein Care clinic, this is the place to be."
C.P.
Google
"Cannot say enough positive things about this practice. After initially beginning treatment elsewhere and having a terrible experience, Dr. Rizzo and the entire staff have been transparent, kind, and professional. They respect their clients' time and the office is very clean/organized."
J.H.
Google