Diseased veins can be caused by a variety of reasons, including hormone shifts, genetics, obesity, blood clots, certain medications, and more. Usually red, purple, or blue in appearance, affected veins often show brightly through the skin and can be hard to cover up. Our experienced providers offer sclerotherapy as a solution to diseased veins. This minimally invasive procedure requires very little, if any, downtime and can help you have the confidence to show off those legs once again. In some patients, this treatment can also be used to treat more severe cases of varicose veins. Sclerotherapy can be received for both cosmetic and medical reasons. If your concerns are mainly for treating medium-sized veins that have a pesky and distracting appearance, insurance may not apply for your cosmetic sclerotherapy. However, for ulrasounded-guided sclerotherapy used to treat larger and diseased veins, your insurance provider will likely cover this treatment. For more information, contact Vitality Vein Care in Prosper, TX.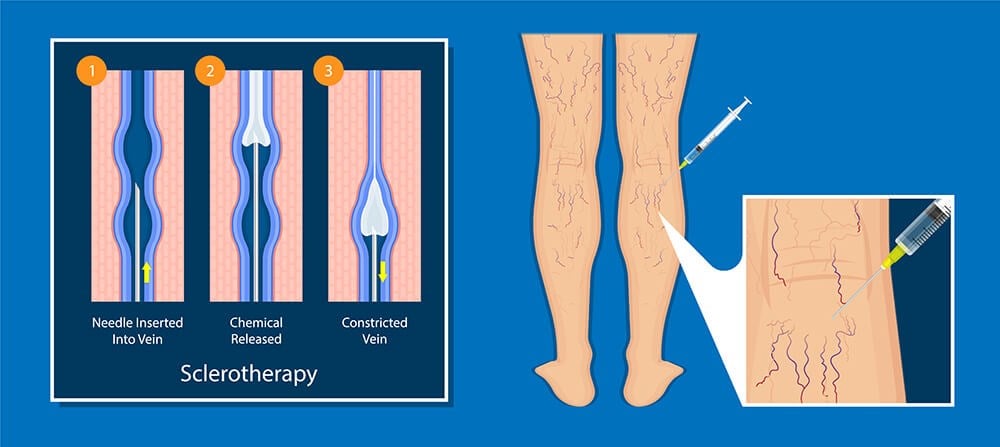 What Are The Benefits Of Sclerotherapy?
Sclerotherapy treatments at Vitality Vein Care can help create legs that make you want to wear shorts with benefits like:
Enhancing the appearance of the legs

Eliminating unsightly spider veins

Reducing small to medium varicose veins

Reducing pain and discomfort

Expanding wardrobe options

No incisions or surgery

No anesthesia necessary

Little to no recovery time

Treatments are quick

Results are fast
Sclerotherapy Reviews
"I went in expecting a dull, painful experience, and to my amazement and surprise the nurses were happy and fun. and helped me to laugh away the pinch. Each nurse took a leg and happily went to work erasing my spider veins. They both worked for an hour and completely obliterated those ugly veins! I am soooo happy! They wrapped them tightly after and gave very specific instruction in how to car for my legs. If you want to get rid of your ugly spider veins and enjoy the experience, this is THE place to go."
- W. /
Google /
May 27, 2022
"I just completed my last procedure at Vitality Vein Care. I know some of you that may be reading this might be afraid to do this. I was a little nervous but it's SOOOOOOO worth it!! Todays procedure with Stephanie and Nicole was to finally get rid all those ugly spider veins. Yes, you feel some sticks from the needles but it's over super quick with no lasting discomfort. They are so professional and great at what they do, but are also so cute and fun, and the procedure is over before you know it. It's been almost a week since they worked their magic on me and besides the little marks from the needles, the spider veins are gone! And just in time for shorts and sandals!! Thank y'all so much!!"
- V.S. /
Google /
Jun 13, 2022
"I made an appointment with Vitality to discuss treating spider veins. I have treated them with sclerotherapy for years and decided to visit an actual doctor to see what else could be done. This appointment was very eye-opening, and I'm so glad I went because I discovered these spider veins are caused by deeper vein issues; they are not just cosmetic. A sonogram was performed on both my legs as was a nerve test to determine underlying problems. The sonogram revealed areas that are causing the spider veins, and the staff explained the treatments available to correct them. These are done in the office with no down time. The staff was professional, helpful and very nice. I recommend Vitality Vein Care!"
- J.H. /
Google /
Aug 06, 2022
"Great location in Prosper right off Preston Rd. NP explained process, vein disease & recovery expectations clearly & patiently. They were friendly, welcoming & had an open & eager willingness to help. Treated all my spider veins within a 1-hour appointment. Now my legs can't see the sun for a couple weeks & I'll be rocking granny style compression socks up to my thighs but worth it if my legs will be summer-ready!"
- S.C. /
Google /
Mar 07, 2023
"I took my 83 y/o mom to have her legs checked out because of bad vericose veins and spider veins. After her treatments, at her 6 mo follow up appt, she no longer had the vericose veins! She had them all my life and I'm 55, now they are gone!!!"
- C.D. /
Google /
Mar 29, 2023
Previous
Next
Am I A Candidate For Sclerotherapy?
Sclerotherapy treatments are best for women and men who are bothered by small to medium-sized blood vessels that can be seen through their skin. Usually, these diseased veins are most visible on the thighs and lower legs, so patients may avoid wearing swimsuits, shorts, or any other clothes that do not cover their spider veins. Patients need to be in good general health before their treatment to minimize the chance of complications. Patients should not be pregnant or have a history of blood clots.
What Can I Expect from My Sclerotherapy Treatment?
Sclerotherapy is performed right inside our office as a quick procedure that requires no anesthesia. We'll start by marking the blood vessels to be addressed and cleaning the skin. We'll inject a sclerosing solution into the vein using a fine-gauge needle. We will continue this process until all spider veins have been treated. After your appointment, you can leave to go home. You might experience some swelling, redness, or bruising, but this will fade on its own. We recommend you wear a compression sleeve to help with blood flow and for faster results. It could take a bit, but you'll start to notice your blood vessels shrinking and fading. In some cases, it could take two or more sessions to get your desired results. Follow-up treatments will be scheduled as needed.
How much does sclerotherapy usually cost?
The number of veins treated, vein size, and other factors typically determine how much your treatment regimen will cost. In addition, insurance may contribute to sclerotherapy if your veins are large and diseased. During your consultation, one of our experienced physicians will examine your veins and talk to you about your goals before creating a personalized treatment plan for you. When your plan is decided, we can estimate the cost of your sclerotherapy treatment and talk to you about payment options.
How is sclerotherapy different from laser vein treatments?
While laser vein treatments use focused light energy to treat unsightly veins, sclerotherapy employs a specialized solution to shrink the vein, causing it to disappear. For medium to large spider and varicose veins, sclerotherapy is often a better choice, whereas laser vein treatments are typically more effective for smaller veins and veins in the facial area.
Is sclerotherapy effective for the hands and face?
Yes, it is. Varicose and spider veins, blemishes, and broken blood vessels on the hands and face can all be treated with sclerotherapy. During your consultation, we will examine your veins to determine if sclerotherapy is the right option to safely treat your veins and help you reach your aesthetic goals. If sclerotherapy isn't an option for your particular situation, we can often offer other options to help reduce unsightly veins.
How long do you have to wear compression stockings after sclerotherapy?
At Vitality Vein Care, we typically advise our patients to wear compression socks to help aid healing and improve blood circulation. During your consultation, we will take into account your treatment, health, and other factors to determine how long you'll need to wear your compression stockings. Most patients will typically wear their compression socks for at least two weeks after their sclerotherapy procedure.
If you have unisghtly veins on your legs or body, you may feel embarrassed to wear shorts, skirts, or other clothing. At Vitality Vein Care, our team of board-certified vein specialists offers sclerotherapy to get rid of medium-sized and large diseased veins. If not treated, diseased veins could continue to grow over time so we suggest seeking treatment as early as possible. For more information or to schedule a consultation, contact Drs. Daniel Rizzo, Aaron Roberts, or Bradley Hart in Prosper, TX today.
Related Treatments
Related Posts