While many think that varicose veins are simply an aesthetic issue, they are much more than that. When these veins come to the surface, they are actually bloated, painful veins that have stopped working. These damaged veins will continue to spread if they are left untreated. In fact, they could put you at risk for blood clots, inflammation, and more. Our board-certified vein specialists, Drs. Aaron Roberts, Daniel Rizzo, and Bradley Hart, treat varicose veins at Vitality Vein Care. Using state-of-the-art technology, our team can help you eliminate your varicose veins. For more information, contact our Prosper, TX office today.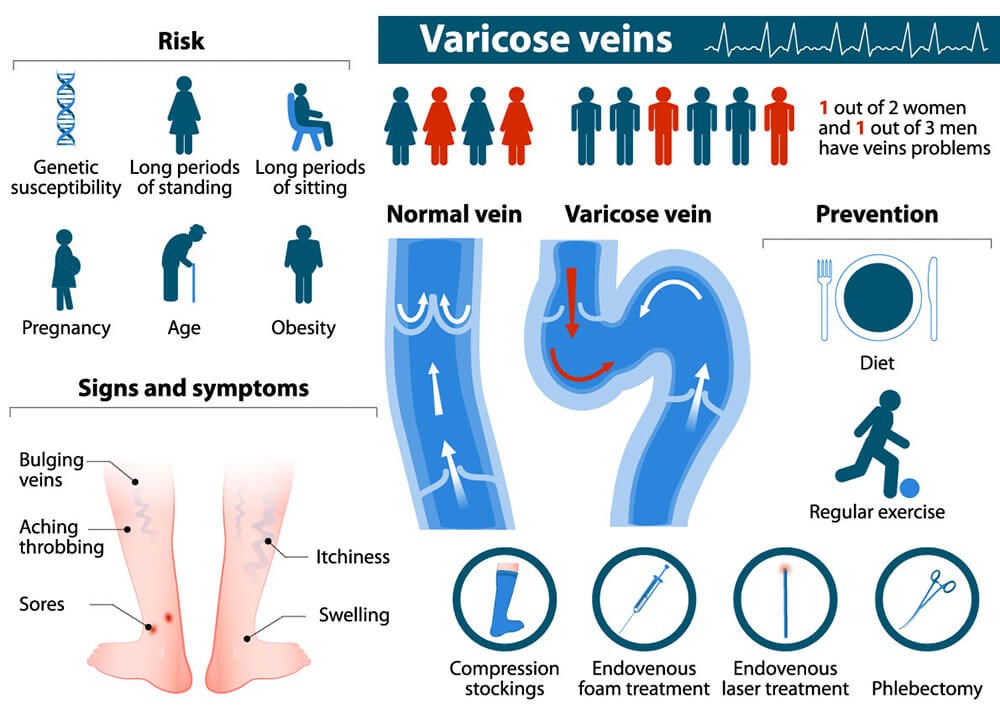 What Are the Causes and Symptoms of Varicose Veins?
Varicose veins are a somewhat common problem among men and women. In fact, about 1 out of 2 women and 1 out of 3 men have varicose veins. There are a number of reasons a person might develop varicose veins, including:
Genetics
Pregnancy
Obesity
Gender
Prolonged periods of sitting
Prolonged periods of standing
While you may notice a bulging vein, you could also be experiencing varicose veins, even without this aesthetic confirmation. You may have hidden varicose veins if you experience one of these common symptoms:
Tired legs
Heavy feeling in the legs
Leg aches
Swelling
Pain
Burning or itching sensation
Restless legs
Leg cramps at night
How Can I Get Rid of Varicose Veins?
At Vitality Vein Care, it's our goal to give our patients the education and tools they need to make a sound decision regarding their health. That's why if you have varicose veins, we will begin your healing by helping you understand your different treatment options. Typically, we begin varicose vein treatment by treating the refluxing varicose vein, or in other words, treating the vein that isn't functioning properly. This could include endovenous foam treatment, endovenous RFA treatment, or something else. Our office features a variety of state-of-the-art technologies to make treatments and recovery as short as possible. After about 4 – 6 weeks, we can begin aesthetic treatments, which could include sclerotherapy or phlebectomy.
Should I be concerned about my varicose veins?
Experiencing the following conditions if you have varicose veins may indicate a serious health issue, and you should contact your doctor. These include:
Severe, continuous pain
Continuous swelling
Heaviness in the legs
A dull, achy feeling at the end of the day or after physical activity
How many people have varicose veins?
In the U.S., roughly a quarter (23%) of adults have varicose veins.
How can I stop my varicose veins from getting worse?
The best ways to keep your varicose veins from getting worse are the ones mentioned above. These include:
Regular exercise
Losing weight
Don't sit or stand for long periods
Putting your feet up
Wearing compression socks or support pantyhose
Avoid tight clothing
Eat a healthy diet
Can varicose veins cause a stroke?
Varicose veins aren't just unsightly — they may put you at risk for serious health problems. New research suggests that people with varicose veins may be at higher risk of DVT (deep vein thrombosis), and it could be a warning sign of developing potentially deadly blood clots.
Treat Your Varicose Veins
Living with varicose veins is more than just figuring out how to cover them up — it's often painful and can even lead to further health complications. At Vitality Vein Care, our highly skilled team of board-certified physicians, Drs. Bradley Hart, Daniel Rizzo, and Aaron Roberts, offer a number of treatment options for varicose veins. For more information on how you can treat your varicose veins, contact our Prosper, TX office.
Related Procedures
Related Post