At Vitality Vein Care, we often see a number of men and women who suffer from lymphedema, or chronic leg swelling. As of today, there is no known cure for lymphedema; however, with early diagnosis and care, it can be managed. Board-certified vein specialists Drs. Aaron Roberts, Daniel Rizzo, and Bradley Hart offer diagnosis and treatment for lymphedema at their Prosper, TX office. Often a symptom of a larger issue, we can help treat the underlying cause of your leg swelling to help you find comfort and ease with your everyday activities. For more information, contact Vitality Vein Care in Prosper, TX today.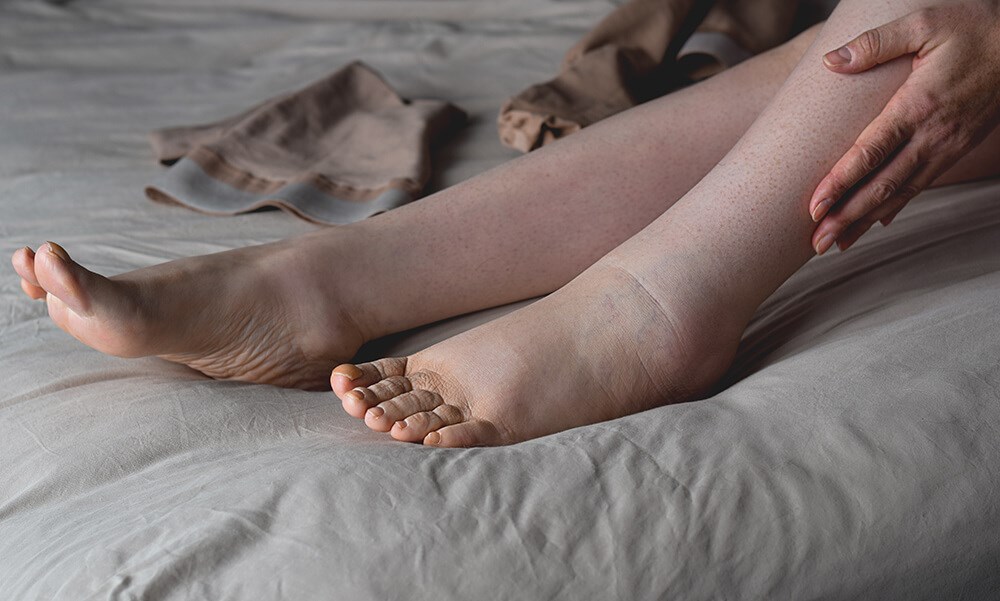 Reviews
"As a board-certified, family practice physician, and a patient of Vitality Vein Care, although I live just over two hours away from this facility, I have still referred many patients to them, because they are worth the drive. I believe they provide the best of care to their patients, and with each patient I have sent, I continue to receive wonderful feedback regarding their experiences with Vitality Vein Care. I have consistently seen good outcomes, and some seem nearly miraculous, so, if anyone is hesitating for an evaluation, I believe they're worth at least the first visit, and to receive the education they have regarding the condition that they find."
- C.C. /
Google /
Oct 06, 2023
"Had an opportunity to visit with Stephanie Sealy. She and her team I now call Charlie's Angels worked me over pretty well and were extremely thorough. It can only get better from here. So here we go. I need the leg cramps to stop because they are so painful. My initial visit was pleasant and hopeful.....stay tune!"
- J.Z. /
Google /
Nov 25, 2023
"I had wondered why my legs hurt. And WHY did I have leg cramps every night. During my annual physical my doctor recommended me to have Vitality look at me. They said it would be amazing. We just finished the last surgery… and WOW!! No more leg cramps! My legs feel GREAT. Truly. The doctors and nurses, and other staff members were all excellent. Service. 5 stars. If your legs hurt, do yourself a favor and see Vitality. The procedures were almost painless and were not hard for for me at all!"
- R.J. /
Google /
Nov 14, 2023
". I had a great experience. I highly recommend Vitality Vein Care. The staff is great . They are simply great."
- C.J. /
Google /
Nov 03, 2023
"I have a lot of anxiety over these procedures. The entire staff is caring & loving. They actually want you well and thriving! Both Dr Hart & Dr Rizzo and their staff are awesome.Vitality Vein Care I would highly recommend to anyone in need of these services."
- B.H. /
Google /
Nov 02, 2023
Previous
Next
The lymphatic system (part of the immune system) has many functions that include maintaining body fluid levels and removing waste. When the lymphatic system is damaged in some way, it can no longer drain fluid properly from the extremities. This fluid build-up causes swelling or a feeling of heaviness in the affected areas. Lymphedema can be caused by a number of different conditions, including:
Cancer treatments such as radiation therapy or surgery
Infection
Trauma
Genetics
Lack of activity
What are the symptoms of lymphedema?
Lymphedema presents itself differently in everyone based on the underlying cause, severity, and location of the swelling. Common symptoms associated with the condition include:
Aching or discomfort
A feeling of heaviness or fullness
Tightening sensation
Swelling of the foot, ankle, leg, or arm
Restricted range of motion
Anyone experiencing these symptoms is encouraged to seek medical attention as soon as possible. Vitality Vein Care's board-certified vein specialists have the experience and knowledge to diagnose and treat your condition so you can get back to your everyday activities.
How Is Lymphedema Diagnosed?
Diagnosing lymphedema at Vitality Vein Care in Prosper, TX, often starts with a physical examination where one of our vein specialists looks for swelling and changes in the skin. They may also ask about any history of surgeries or injuries. An imaging test, like a lymphoscintigraphy, can be performed. This is when a dye is injected to observe lymph flow, highlighting blockages. Another standard test is the bioimpedance analysis, which measures the amount of fluid in the limbs. While these tests are important, it's essential to differentiate lymphedema from other conditions that cause swelling, such as venous insufficiency. Diagnosing lymphedema involves a blend of clinical assessment and advanced imaging techniques, ensuring an accurate diagnosis and the best possible care for the patient.
What are my Lymphedema Treatment Options?
While there is currently no cure for lymphedema, there are a variety of treatment options to reduce swelling and prevent future swelling. Better results are usually seen when diagnosed early on so it's important to reach out as soon as something feels off. At Vitality Vein Care, we consider a number of treatment options to create a unique treatment plan for you. Common treatments include:
Compression garments: This includes wraps, socks, and sleeves.
Manual lymphatic drainage massage: This helps move excess fluid out of the legs and in the proper direction through undamaged lymph channels.
Lymphedema supplements and medications: These can help decrease the volume in the legs or arms and may reduce any future progression.
Correcting the underlying venous problem: This can help improve swelling.
Exercise: This encourages lymph drainage, and our team can provide some exercise techniques that will focus on specific muscle movements.
What to Expect After Lymphedema Treatment
Vitality Vein Care provides detailed information regarding your specific plan and what you can expect afterward. Side effects vary among patients but can include short-term soreness or a feeling of tightness in the treatment area. Generally, you can expect to see an improvement within a short period, but it is important to follow our instructions closely and attend all follow-up appointments as scheduled for the best possible results. We understand how lymphedema can affect your life and we are dedicated to helping you find relief.
What causes lymphedema?
Lymphedema, or chronic leg swelling, is a condition that could be the result of genetics, certain medical conditions, or trauma to the legs. While lymphedema may seem scary and you may have questions about how it occurs, Vitality Vein Care can provide helpful treatment options to address these causes.
How is lymphedema diagnosed?
Vitality Vein Care will provide a comprehensive evaluation before making an official diagnosis. We may ask about your medical history and family history of lymphedema. Additional testing may also be performed as needed. Our goal is to understand the root cause of your swollen legs so we can move forward with effective treatment.
Will exercise treat my lymphedema?
Not necessarily, but making healthy lifestyle changes that involve regular exercise is always a good idea. In fact, exercise using certain techniques encourage proper lymph drainage. However, exercise may not be enough to treat your swollen. Our specialists can make recommendations when you come in for a health assessment in Prosper, TX.
Reduce Swollen Legs and Puffy Ankles
If you have swollen legs and/or arms or puffy ankles, it could be a sign of lymphedema. This condition could cause occasional puffy ankles, persistent swelling of the legs, blisters, or even something else. While there is no cure for this condition, there are ways to alleviate symptoms so you can find relief and improve your quality of life. Our team of board-certified lymphatic experts, Drs. Bradley Hart, Aaron Roberts, and Daniel Rizzo, offers lymphedema treatment at Vitality Vein Care. For more information, contact our Prosper, TX office today.
Related Procedures
Related Posts