At Vitality Vein Care, we often see a number of men and women who suffer from lymphedema, or chronic leg swelling. As of today, there is no known cure for lymphedema; however, with early diagnosis and care, it can be managed. Board-certified vein specialists Drs. Aaron Roberts, Daniel Rizzo, and Bradley Hart offer diagnosis and treatment for lymphedema at their Prosper, TX office. Often a symptom of a larger issue, we can help treat the underlying cause of your leg swelling to help you find comfort and ease with your everyday activities. For more information, contact Vitality Vein Care in Prosper, TX today.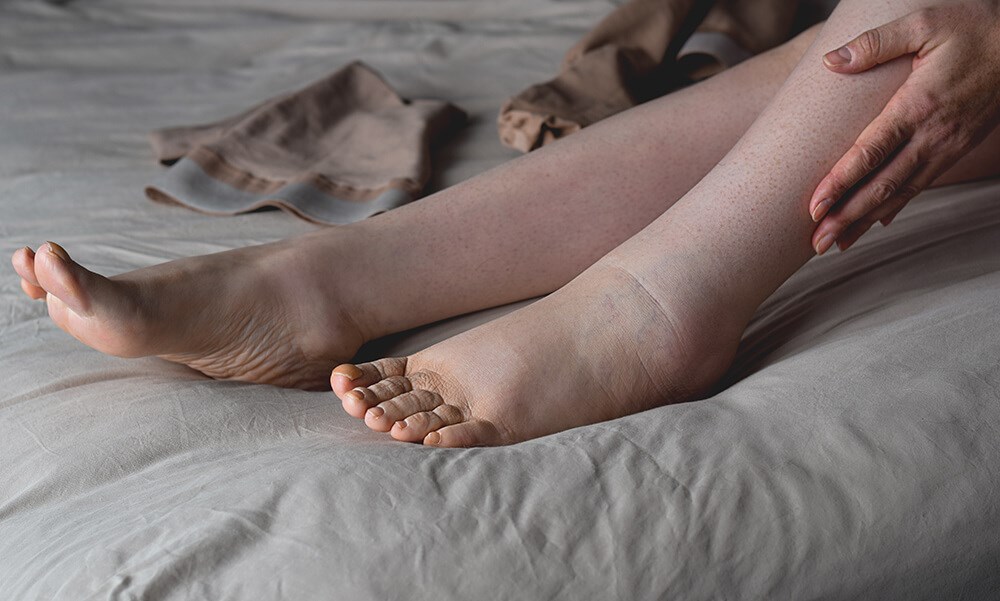 Reviews
"I always love going to Vitality Vein because everyone is so friendly warm and caring!"
- M.D. /
Google /
Sep 17, 2022
"I just finished my first procedure at VVC Prosper. I was fascinated with the incredible level of customer service. Every single step was clearly explained with kindness. I highly recommend them."
- A.K. /
Google /
Sep 10, 2022
"Staff at VVC were kind and welcoming. They conducted a thorough exam and helped me understand my treatment options. Edited to add I've had 3 procedures with them thus far. My five stars still stand. They are awesome."
- S.M. /
Google /
Aug 19, 2022
"I made an appointment with Vitality to discuss treating spider veins. I have treated them with sclerotherapy for years and decided to visit an actual doctor to see what else could be done. This appointment was very eye-opening, and I'm so glad I went because I discovered these spider veins are caused by deeper vein issues; they are not just cosmetic. A sonogram was performed on both my legs as was a nerve test to determine underlying problems. The sonogram revealed areas that are causing the spider veins, and the staff explained the treatments available to correct them. These are done in the office with no down time. The staff was professional, helpful and very nice. I recommend Vitality Vein Care!"
- J.H. /
Google /
Aug 06, 2022
"Staff at VVC were kind and welcoming. They conducted a thorough exam and helped me understand my treatment options."
- S.M. /
Google /
Jul 30, 2022
Previous
Next
What Are the Causes and Symptoms of Lymphedema?
As blood and lymphatics flow through the leg, they deliver necessary oxygen and nutrients to the cells and flush away wastes and fluids in the cells. However, in some cases, the lymph vessels can't properly drain the lymphatic fluid, blocking this process from being completed, which leads to swelling. Common symptoms of lymphedema are:
Aches
Heaviness in the legs
Tightening sensation
Swelling of the foot, ankle, leg, or arm
Inability to move the foot, ankle, leg, or arm in all directions
At Vitality Vein Care, we are determined to help improve your quality of life by treating lymphedema.
What are my Lymphedema Treatment Options?
While there is currently no cure for lymphedema, there are a variety of treatment options to reduce swelling and prevent future swelling. Better results are usually seen when diagnosed early on so it's important to reach out as soon as something feels off. At Vitality Vein Care, we consider a number of treatment options to create a unique treatment plan for you. Common treatments include:
Compression garments: This includes wraps, socks, and sleeves.
Manual lymphatic drainage massage: This helps move excess fluid out of the legs and in the proper direction through undamaged lymph channels.
Lymphedema supplements and medications: These can help decrease the volume in the legs or arms and may reduce any future progression.
Correcting the underlying venous problem: This can help improve swelling.
Exercise: This encourages lymph drainage, and our team can provide some exercise techniques that will focus on specific muscle movements.
What causes lymphedema?
Lymphedema, or chronic leg swelling, is a condition that could be the result of genetics, certain medical conditions, or trauma to the legs. While lymphedema may seem scary and you may have questions about how it occurs, Vitality Vein Care can provide helpful treatment options to address these causes.
How is lymphedema diagnosed?
Vitality Vein Care will provide a comprehensive evaluation before making an official diagnosis. We may ask about your medical history and family history of lymphedema. Additional testing may also be performed as needed. Our goal is to understand the root cause of your swollen legs so we can move forward with effective treatment.
Will exercise treat my lymphedema?
Not necessarily, but making healthy lifestyle changes that involve regular exercise is always a good idea. In fact, exercise using certain techniques encourage proper lymph drainage. However, exercise may not be enough to treat your swollen. Our specialists can make recommendations when you come in for a health assessment in Prosper, TX.
Reduce Swollen Legs and Puffy Ankles
If you have swollen legs and/or arms or puffy ankles, it could be a sign of lymphedema. This condition could cause occasional puffy ankles, persistent swelling of the legs, blisters, or even something else. While there is no cure for this condition, there are ways to alleviate symptoms so you can find relief and improve your quality of life. Our team of board-certified lymphatic experts, Drs. Bradley Hart, Aaron Roberts, and Daniel Rizzo, offers lymphedema treatment at Vitality Vein Care. For more information, contact our Prosper, TX office today.
Related Procedures
Related Posts