Welcome To
Vitality Vein Care
Many of our patients hear about us from family and friends. Others are introduced through health fairs or vein screenings. For others, your doctor told you to come get checked out. For many, the initial office visit will be their introduction to the Vitality Vein Care team.
If you suffer from varicose veins, spider veins, leg swelling or non-healing wounds, we suggest a vein consult at Vitality Vein Care in Prosper, Texas.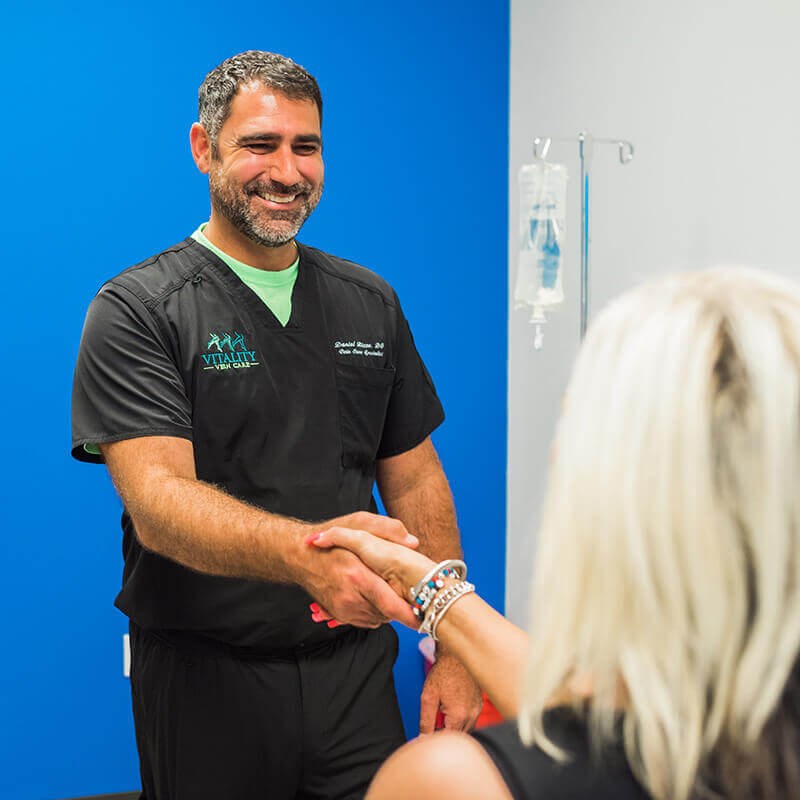 A consult will include a thorough medical history and physical exam. This focuses on your presenting complaints as well as a duplex ultrasound of your legs, which will be performed to determine the underlying cause of your complaint. Our goal is to understand the reason why you came to see us, find the root cause of your problem and customize a treatment plan to address the underlying source of your vein problems and correct the visibly damaged vein.
Our board certified physicians are convinced that a vein consult should include a general history and along with a vein specific exam, as on occasion, a serious medical issue is diagnosed.
For the majority of patients, the consultation includes a detailed venous ultrasound by one of our registered vascular technologists. The exam is then reviewed by our physicians. The ultrasound findings allow your physician to create a map of the deep and superficial veins to find the normal and abnormal veins and tailor a treatment plan to you.
The cornerstone of a comprehensive phlebology practice is consultation and diagnostic testing. Patients who see us for a second opinion often tell us our attention to the smallest details is what sets us apart. The vein mapping ultrasound is done in the standing position. We have specially designed platforms for venous testing in each consultation room. Other diagnostic aids include transillumination lights that allow us to further evaluate the superficial veins.
Using the ultrasound venous map as an aid, we will discuss your findings with you and discuss treatment options. Your treatment plan will always reflect the individual nature of each vein as well as leg. The goal is to leave the good veins and treat the bad. In other words, there is no cookie cutter approach to vein care. Your treatment will be tailored to your specific needs.
Another distinctive quality of VVC is our photo archiving system. Our system allows us to record detailed images to compare your response to treatment.
Before your consultation is complete, our goal is for you to understand the nature of your problem, make sure that all of your questions are answered, and make sure that you understand all of your treatment options. Because of the detail, please allow 90-120 minutes for your initial visit. When you choose to proceed with your treatments, they will be scheduled with insurance approval in mind. The VVC staff will provide you with a list of pre-operative instructions that allow you to achieve the best possible outcome.
Take the first step and call today!
At Vitality Vein Care, our physician vein experts are here to help guide you through the entire procedure to get your legs feeling decades younger. So take the first step and call today to schedule an appointment. It's never about vanity, it's about vitality.