What are Nonhealing Leg Wounds?
Nonhealing leg wounds, otherwise known as venous ulcers, develop after the one-way valves in the veins stop working properly. This typically causes swelling in the veins, which leads to inflammation in the leg. Eventually, damage to the skin occurs and an ulcer develops. The good news is, at Vitality Vein Care, our dedicated team of vein specialists — Drs. Bradley Hart, Aaron Roberts, and Daniel Rizzo — can help men and women address their nonhealing leg wounds for long-lasting results. With this comprehensive treatment, we can help your wounds heal so you can get back to living your wonderful life. For more information, contact our Prosper, TX office today.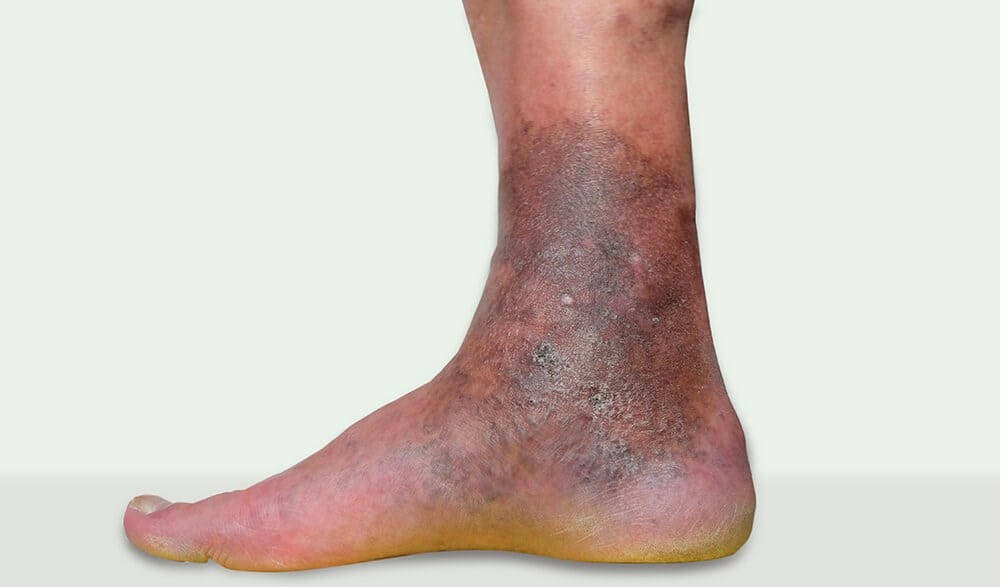 Nonhealing Leg Wounds Reviews
"The Staff and Doctors at Vitality Vein Care are AMAZING IN EVERY WAY!! My patient has had a wound on his ankle for almost a year. We were referred to Vitality and within weeks they had his wound closed and on the mend!! I can not thank each and everyone at Vitality Vein Care enough! Y'all are a blessing!"
- C.L. /
Google /
Oct 22, 2021
Previous
Next
What Are the Causes and Symptoms of Venous Ulcers?
When a saphenous vein stops working properly, it causes venous reflux, or blood flowing in the opposite direction. When this occurs, it can cause a venous ulcer to form. While most venous ulcers can be treated, if the venous reflux is not treated within a year, it could cause the majority of the ulcers to reoccur. If you are prone to blood clots, have deep vein thrombosis, perforator vein disease, deep vein reflux, or varicose veins, you are at greater risk of developing this nonhealing leg wound. Common symptoms of an ulcer in the leg are:
Pain in the leg
Redness and swelling around the ulcer
Fever
A discharge coming from the ulcer
An odd smell coming from the ulcer
Can Nonhealing Leg Wounds be Treated?
Venous ulcers are treatable. In fact, the best form of treatment is prevention. With the help of one of our board-certified specialists, we can help you prevent ulcers by correcting your vein reflux. Before we being your treatment, we'll review your symptoms and complete an exam of your leg and study the veins through a duplex ultrasound. From there, we'll be able to develop a treatment plan. Typically, this first begins by getting control of the leg swelling and addressing the wound itself. Once the ulcer begins to heal, we can correct the underlying issue. Typically, this will involve either thermal endovenous therapy (radiofrequency ablation) or nonthermal endovenous therapy using VenaSeal™. After that, we can treat the perforator vein associated with your ulcer, typically by performing RF ablation, open ligation, or sclerotherapy.
Nonhealing leg wounds FAQs
How are venous skin ulcers diagnosed?
The board-certified surgeons at Vitality Vein Care usually diagnose nonhealing leg wounds by asking questions about your health and medical history, then performing a physical exam. We may also take create a detailed record of how your veins are functioning, including their size and location. This allows us to determine the best treatment option for you.
Are there complications associated with nonhealing leg wounds?
The longer venous ulcers are left untreated, the greater the chance of developing secondary complications. It's common for venous ulcers to cause long-term redness and skin inflammation, but you may be at an increased risk for certain infections as well. Patients in Prosper, TX, should seek medical care as soon as they notice symptoms for prompt treatment.
Do venous ulcers heal on their own?
Some people try to heal venous ulcers by themselves and without medical assistance, but it's unlikely that nonhealing leg wounds will disappear on their own. This is why it's so important to seek care from a qualified professional. While treatment may be different for everyone, our practice has helped many people find relief — so they can return to their daily activities in comfort.
Take Care of Your Venous Ulcer
If you notice pain or swelling in your leg, it could be a sign of something more serious. If left untreated, you could develop a venous ulcer, which can be painful and cause unsightly and unpleasant reactions on your skin. At Vitality Vein Care, our team of board-certified vein specialists is available to help take care of nonhealing leg wounds and the underlying causes. If addressed swiftly and properly, your chances of developing a venous ulcer again go down dramatically. For more information or to schedule a consultation, contact Drs. Bradley Hart, Daniel Rizzo, or Aaron Roberts at our Prosper, TX office.
Related Procedures
Related Post