What is Endovenous Ablation (RFA)?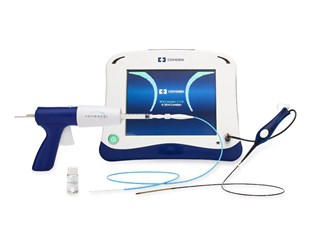 Varicose veins can be more than unsightly; they can also be painful and cause discomfort for the men and women who have them. Thankfully, however, there are treatment options to reduce the appearance of varicose veins. One of the more common methods is endovenous ablation or radiofrequency (RF) ablation. Using state-of-the-art technology, our team at Vitality Vein Care can close the varicose vein. While it can be done to correct cosmetic concerns, it's often performed once an individual starts experiencing symptoms, such as aching, swelling, skin discoloration, and more. Our board-certified vein specialists, Drs. Daniel Rizzo, Bradley Hart, and Aaron Roberts, offer this treatment to Frisco, Plano, McKinney, and surrounding area Texas residents. For more information, contact our Prosper, TX office.
Reviews
"WOW! From the moment I made the initial phone call to schedule an appointment to leaving their office today, I felt like I truly mattered and that they were going to be able to help me! Staff is incredibly friendly and attentive. I felt very comfortable with everyone and even Dr. Hart came into the room while I was having the scans on my legs done and introduced himself which was so nice! They all understood the amount of pain I'm in daily and were sympathetic to my specific situation! I am so happy to have a diagnosis and a treatment plan and I definitely couldn't have chosen a better place for myself! They love what they do and it shows. I am always skeptical going to a new clinic but it was like I'd known them forever and they explained everything and made sure I understood how bad my legs are. Dorie even typed up all the procedures I need so I could review it all at home! I will never go anywhere else and it was like they knew how important it was for me to be heard ….. they understood the assignment ( Lol) and I felt very cared for! Love these guys!!"
- C.H. /
Google /
Apr 27, 2022
"Love this place! They are so thorough & so knowledgeable! Very nice as well. i so enjoyed my experience and set up following appointments!"
- K.J. /
Google /
Apr 06, 2022
"Wonderful team. Doctors, techs and all employees are friendly and professional. The procedures are explained in detail and courtesy towards patients is amazing. Some of the doctors are veterans. I am truly happy to have met this dynamic team, truly a group of excellent people. All there is left to say is "why go anywhere else"?"
- E.R. /
Google /
Apr 03, 2022
"Great bedside manner. Explains everything well and considerate to patient. Knowledgeable and professional. "
- H. /
Healthgrades /
Feb 18, 2022
"The whole staff was great, very professional and knowledgeable and answered all of my questions?"
- W.W. /
Google /
Feb 09, 2022
Previous
Next
How is Endovenous Ablation Performed?
Endovenous Ablation is a common treatment for varicose veins at Vitality Vein Care and is an outpatient procedure. Using ultrasound technology, one of our skilled vein specialists will guide a small catheter to the vein in question where a local anesthetic is injected. The catheter is activated, and radiofrequency (RF) heat energy will be passed through it. As the vessel is heated, it will close up and seal the vein shut. After your appointment, which typically lasts between 45 – 60 minutes, you can go home. While there is very little downtime with this procedure, you may experience tired, achy legs after your treatment. Within a week following your procedure, we'll have you in for a follow-up appointment to ensure that the vein has indeed collapsed. In a small number of patients, it can take more than a week, but we find that 95 percent of our patients heal much quicker than that. You should notice your varicose veins becoming less and less visible over the next month or so.
Does endovenous ablation hurt?
No, most people don't experience any discomfort during this minimally invasive procedure. The incision for the catheter is very small, and the treatment area is numbed with a local anesthetic before the procedure begins.
How long does an endovenous ablation procedure take?
The entire procedure only takes about 45 minutes to an hour, and then you can go home. Within a week of your procedure, we will schedule a follow-up appointment to ensure the vein has collapsed.
How long is recovery after endovenous ablation?
There is little downtime after an endovenous ablation procedure; however, some may experience tired, achy legs after the treatment. Within a month, most will see a noticeable diminishing of the visibility in the treated vein.
Is it OK to exercise after an endovenous ablation treatment?
While you should avoid strenuous exercise during the recovery process, walking is encouraged as it helps to get your blood circulating and aids healing.
How long do you wear compression stockings after endovenous ablation?
Your doctor will advise you about your recovery process, but in general, you can expect to wear compression stockings for about 2 – 6 weeks.
Treat Your Problematic Veins
If you suffer from varicose veins on your legs or elsewhere, rest assured that you are not alone. Many men and women have varicose veins, and it can be something that causes an unsettling feeling while wearing shorts or a skirt. At Vitality Vein Care, our Prosper, TX team can help you not only reduce this cosmetic issue but treat the underlying vein problem. For more information on endovenous ablation, contact board-certified vein specialists Drs. Aaron Roberts, Bradley Hart, or Daniel Rizzo at Vitality Vein Care.
Related Procedures
Related Post